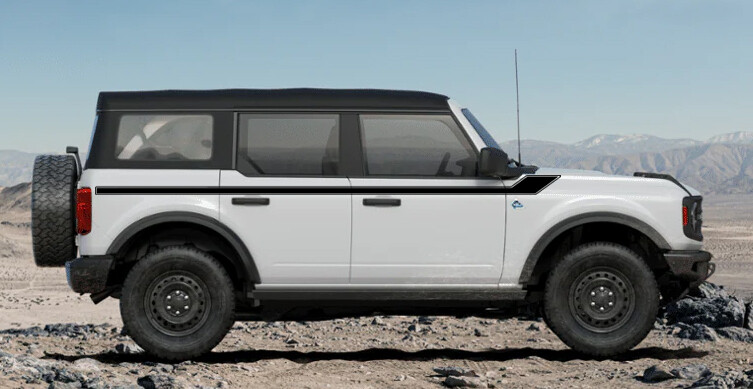 2021-up Ford Bronco Retro Special Decor Style Side Graphics Kit (Centered on Body Line)
SKU 00511
Product Details
These Stripes run along the sides centered on the body crease. They end and are finished at the top side of the fender, They do not continue over the hood.
Choose 4 Door or 2 Door in your color and style. Choose your design style and front fender style as well for a true custom stripe kit!
Retro Special Decor Style Side Graphics Kit for your 2021 - Up Ford Bronco! Make your Bronco Stand out!!! Available for 2 door and 4 Door Models and all Trim Levels. Base, Big Bend, Black Diamond, Outer Banks, Badlands, Wildtrak and First Edition 2021 - Up Bronco.

Designed after the Old School Bronco Factory Style Special Decor Stripes. This design installs Centered on the body line as shown and ends at the top edge of the front fender. This style Does Not continue onto the hood.
Supplied in individual sections for easy handling, each stripe is slightly longer than the panel it is being installed on for wrapping into the seam between panels. Available with or without driver side Keypad cutout.
Save this product for later