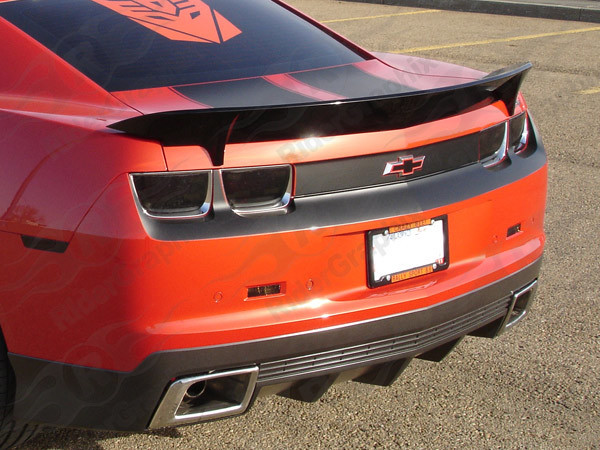 2010 - 2013 Chevrolet Camaro Rear Trunk and Fascia Blackout Decals kit
SKU 00275
Product Details
2010 - 2013 Chevrolet Camaro Rear Trunk and Fascia Blackout Decals kit
Choose from Designs Below
2010-2013 LS7 Camaro Concept Car Style Rear Blackout Decal Kit
Fits Both V6 and SS Models
These pieces are precut and ready to install. No cutting or trimming on the car!!
Select Style "A" to fit around the Bowtie emblem without removing. PLEASE NOTE: a small
amount of body color will be seen around the perimeter of the Bowtie.
Select Style "B" to fit under the Bowtie Emblem. Emblem must be removed to install.
Both pieces are designed to wrap around the lower edge of the trunk lid and over the rear Fascia, behind the trunk. Individual tail light recess pieces are also included. There will be a small line of body color that will show at the transition into the recess area at the tail-lights.
This is done for a complete blackout, with no color showing between the trunk and Rear Fascia seam.
Save this product for later